1. He's a whizz kid
Nichkhun Buck Horvejkul. Try pronounce his name 3x and tell me you're not enchanted by the phonaesthetics that rolls off your tongue. That's how beautiful his name is, and if you've been out of loop since you've been living in a hidden cave somewhere, it's supposed to be pronounced ni-tch-khun, not ni-khun. That tch works magic, okay? Because without "tch", bitch will only be a bi…so don't you dare eliminate that fucking "tch". 
If you're done learning about his extraordinary name, you must know that this guy swears in 3 languages. Not to mention that he's now famous everywhere, in Korea, in Thailand, in New Zealand, and in freakin' Rancho Cucamonga (don't worry, you don't have to learn how to pronounce this one). 
Now, who do we thank for all of these achievements? 
Mr. and Mrs. Horvejkul, of course. Since Khun was at such young age, he was already introduced to the stage. 
Ok wait, wrong picture. 
There.
The heart-thumping and emotionally grueling experience of being a performer is never easy, but this kid prevailed. As you can see above, everyone was deeply impressed with the fierceness that exudes from the tip of his tiny little fingers down to his flawless en pointe. 
He was also introduced to his future boss, although in this case it was pretty much coincidental. 
…don't look too happy, Khun. He's gonna work your ass off.
2. His eyes are mesmerizing
I mean, seriously, how is that a human? His eyes are so freaking cute and round and innocent, and sometimes make you want to hit him with a club for being so blessed with a beautiful pair of eyes.
Funny how people say Asians got no eyes, just look at them. Chansung's eye-size is borderline cow's 
 and Khun's are like meerkat's 
You can't say no to those eyes even if they asked you to plummet into the deepest pit of hell and bring them back a lava rock as souvenir. You just….can't.
3. He's a friendly figure
No doubt Khun has the most fanboys among 2pm members but he never seem to differentiate his fans: 
Although this particular one makes me somewhat uncomfortable: 
4. He's always confused
There were those days where I typed "khunfused" instead of "confused" and my mom was like "Child, go back to school." and it's all because of this guy. He was often caught looking bewildered, and I'm not talking about a "huh?" kind of confusion, he went ALL OUT looking like he did not know a single fuck about what was happening around him. It was again, cute, and amusing because as I mentioned above, his eyes are already big…so when Khun suffers from a serious state of khunfusion, he looks absolutely hilarious. 
 (Jesus Christ, Khun…that is a cone of ice cream. Are you confused or blind?)
5. He has a deadly weapon
Winking vending machine, he was once called. Still eye-related but in this case, it takes more than the physical. You've got to have it: the charm, the attitude, and the extra something-something that makes people go crazy when you send those deadly wink like a viper releasing its venom
Like seriously, those sparkles were not added, you guise…they're naturally blazing off of him.
Another reason why his wink is so deadly, is because it has no gender preference, no one is immune to this thing…we've seen how well it's been working so far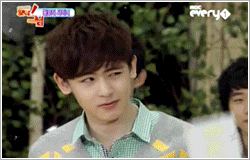 It may look easy to do, I mean…it's just a wink, right?
WRONG.
It's trickier than you think. Someone once tried a long time ago and failed miserably:
6. He's a great model
No doubt, he's one of the prettiest face in Kpop at the moment. I think JYPE can buy the Cinderella Castle from Disney World with the amount of money Khun brings to the company just by modelling alone if he wants to. It's like, he has no ugly side. His small face, perfect height and long legs are meant to be photographed, I mean…I would frame his picture, hang it on my wall and claim him to be my son, you know what I mean? That's how gorgeous he is.
But having said that, I always feel that his legs are too skinny for his body. He was okay two years ago but now that he's bulked up, thanks to the other two gym freak giants, his proportion looks a bit off.
If I see him in person I would suggest that instead of working out using Chansung's legs, why not try lift Chansung using his own legs and see how that goes from there
7. He's into role-play
Kinky, kinky, Khun. Have you noticed that whenever he's given a prop or an outfit, he's suddenly transform into those characters, like wholeheartedly? I have a suspicion that he's the same way when it comes to … you know, the foreplay. Try see what he's been so far:
A stuffed animal.
A Panda (you have angered the original self-proclaimed panda jundyu btw…)
Slightly pedophile Batman.
An overgrown baby.
Indiana Jones (ok this one is rather poor effort).
A butler who is psychotic and will kill you at night with his butcher knife.
A Playboy Bunny (too literal).
Frankenstein.
Jay Park.
The great Buckaroo (pretty convincing due to the fact that his name is a part of it).
A woman (oh God, Taec you are so groce).
A jailbait (this is more natural tbh).
An unattractive person (this one was a little odd for me because the eyebrows didn't seem to distract me at all. Him and his eyebrows…idek).
8. His individual style
I don't know if this should be positive or negative, but I do like to pay attention to what Khun wears because they're always weird. 
 well ok, this one can be categorized to the khunfusion, but really, Khun? That hair?
And as if it wasn't weird enough, he once looked like this 
 at some point in his life. Did a hairdryer blew up on you or something?
Aside from the hairstyle, he also wears the weirdest shit I've ever seen. 
What on earth?
Are you 65?
Like how the fuck can you even see?
Yea, idek.
Alright, this one is not weird at all but he was probably in the middle of contemplating which red-colored clothing item he should wear that day. Buck loves red like Chansung loves food.
9. His suggestive photoshoot
He's always on the bed. 
LIKE.
ALWAYS.
ON THE BED.
It's either he's always lazy and sleepy on set or Korea wants you to believe that the only place he belongs, is on your motherfucking bed.
And it'd better be white, fluffy and shit because if it wasn't, Khun will throw a tantrum and refuse to please you. 
10. He is very humble
This picture has nothing to do with him being humble but there is always an excuse to stare at naked 2PM giants (I wanted to post the whole gang pic but Woo & Junbros had wifebeaters on, goddamnit!!!). Aside from the fame and glory he's had in his pocket, Khun never forget his family and where he's come from. We can tell that he's going to be an amazing dad someday or now if you would father my child.
Khun said if he wasn't in 2PM, he would have been nobody. I personally disagree because with all the positive attitude and good working ethic that he possesses, this guy would go very far in whichever direction he chooses to go and no matter what he does in life, he will be somebody.  
Happy Birthday Khun, hope you heffa good one!